Start your free consultation to discover the right survey for your organization.
or call

(800) 279-6361
National Alcohol Awareness Month | Alcohol Usage Trends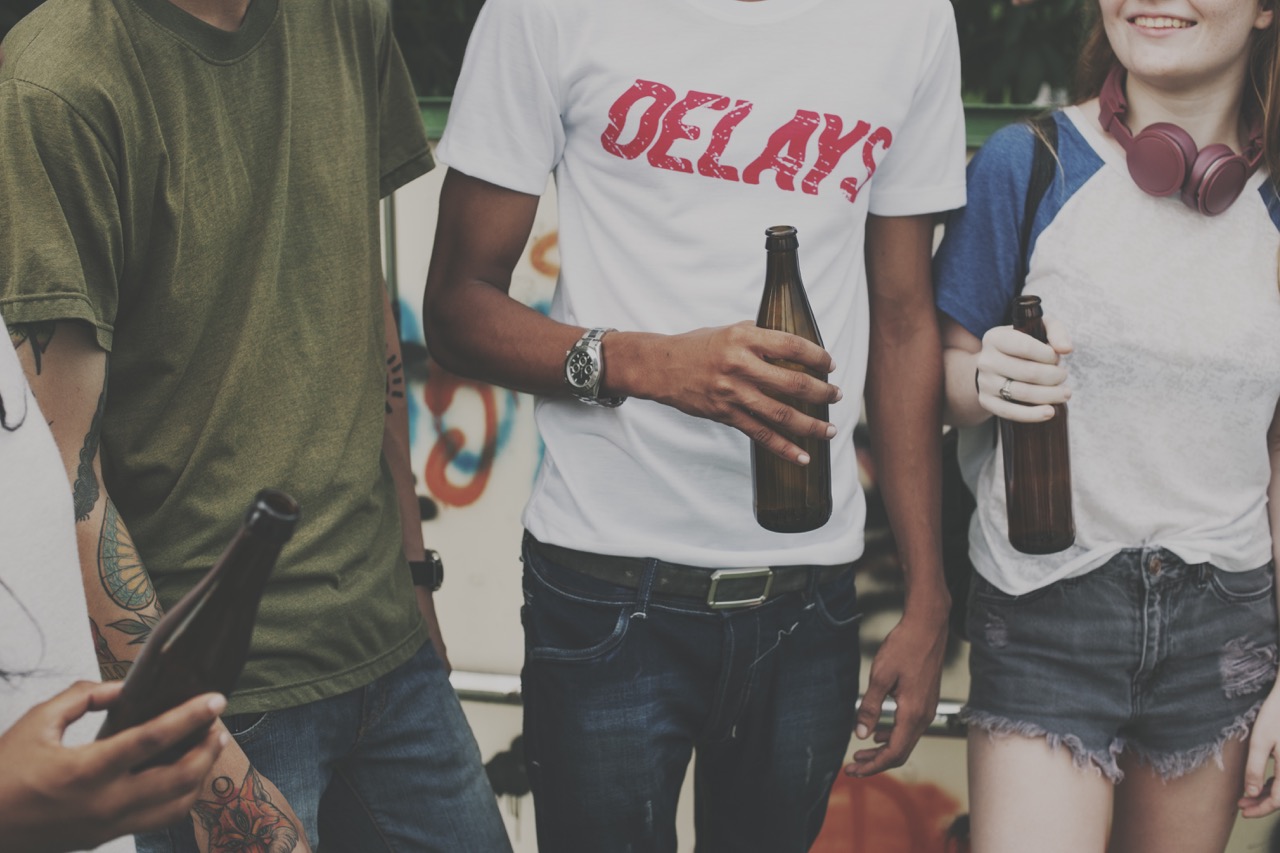 Posted on
At Pride Surveys, we work with a number of community coalitions around the country, and one of the top concerns and top survey topics for high school students is about alcohol usage. Specifically, coalitions want to know from year to year how students get their alcohol, how much they drink, how often, and where they drink. They can use these statistics to track the implementation of their alcohol use reduction programs and the impact of their awareness campaigns. National Alcohol Awareness Month is a public health program that takes place annually in April. It is put on by the National Council on Alcoholism and Drug Dependence to expand the knowledge and outreach about the dangers of alcohol and alcoholism. While initially targeted toward college students in its inception in 1987, it has since become a national movement to increase education and attention beyond the university age group.
Examining Pride Surveys' national data, over the course of the last five years, students are reporting less alcohol usage due to, in part, the phenomenal work community coalitions around the country are doing.
Pride Surveys data from high school surveys consistently tell meaningful stories about consumption, alcohol usage, and trends. Breaking out the data by gender, the analysis of data over five years tells the story that males and females have similar rates of alcohol usage in grades nine through eleven, with males using more once they reach 12th grade. Use trends for both genders increase significantly as youth advance in grade and age.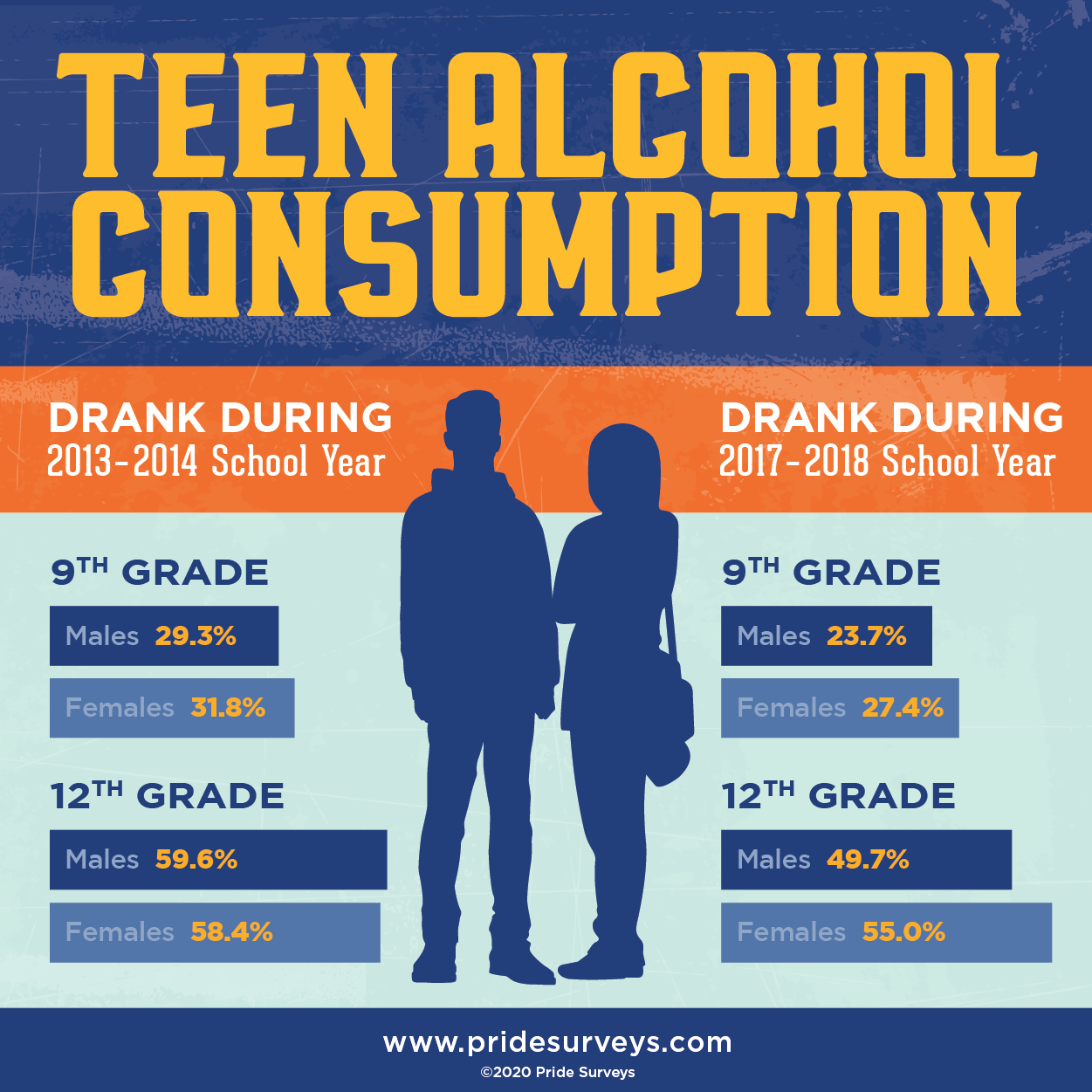 A positive decrease from the data shows that the trend of binge drinking, which Pride Surveys defines as five or more glasses of beer, coolers, breezers, or liquor within a few hours, has decreased significantly. In 12th graders, students reported binge drinking decreased by 4.9% since 2015. This data is further supported by other national surveys like the MTF that also shows a decrease in Binge drinking nationwide. [1]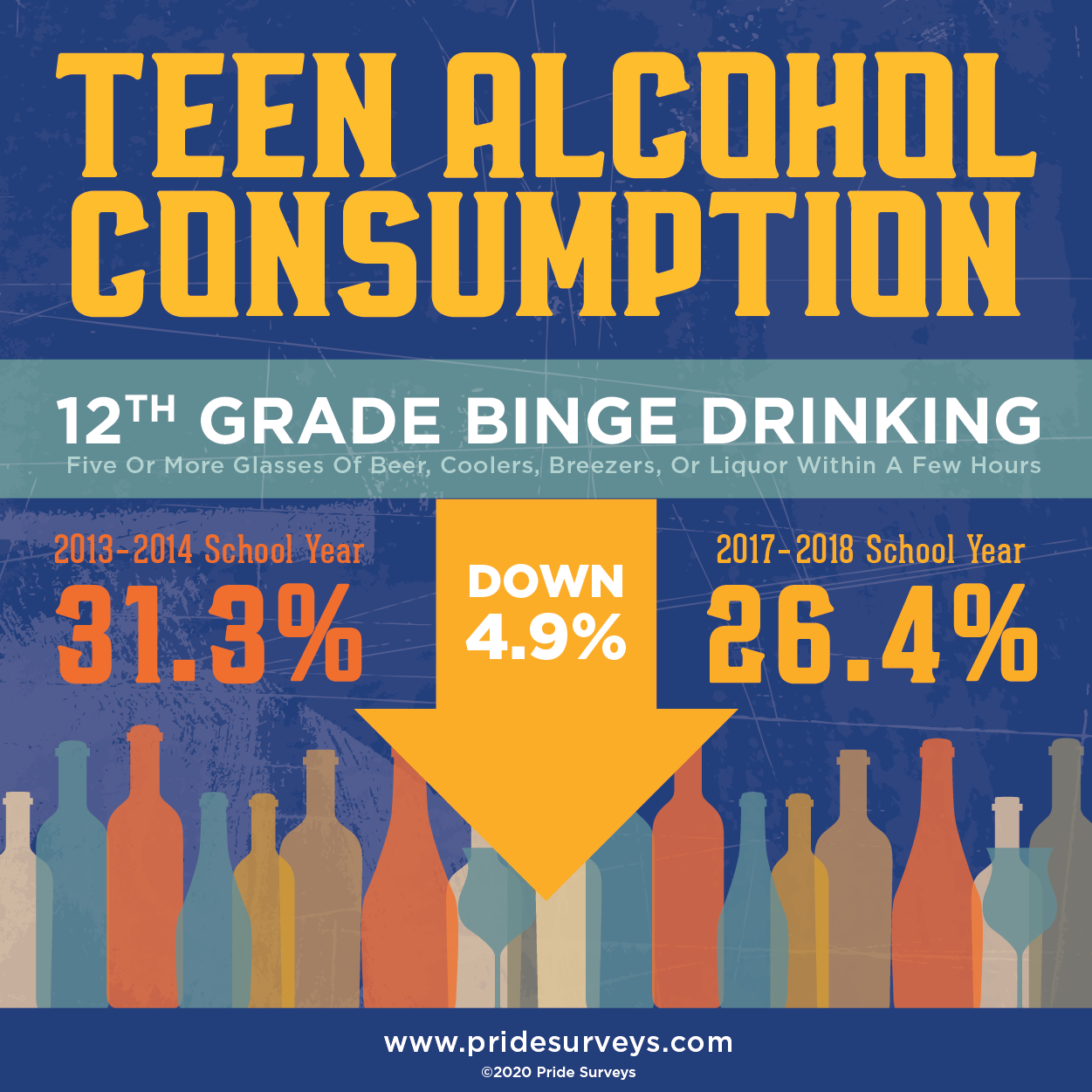 One of the biggest concerns and dangers relates to the consumption of alcohol before driving a car or riding in a car with someone who has consumed alcohol. The positive news is that year over year over a five-year period, these numbers have shown a decrease, with 6.2% of students from 9th to 12th grade reporting that they drove a car or other vehicle when they had been drinking alcohol over the previous 30-day period in 2013-14. This number dropped 1.6% by 2017-18. For those who rode in a car or other vehicle driven by someone who had been drinking alcohol in the past 40 days, the numbers reported by high school students revealed a 2.3% decrease over a five-year period.
For schools and community coalitions, it is critical to be aware and mindful of some of the identifiable risk factors for teen alcohol consumption. Several of these include genetic predisposition and exposure, biologic markers, psychiatric disorders, and childhood behavior, such as being easily distracted, restless, and/or aggressive. [2]
In 2020, there are many great resources and safety measures community coalitions can benefit from as they continue to drive the decrease in alcohol consumption in youth. The National Institute of Alcohol Abuse and Alcoholism offers significant resources, as does SAMHSA. Mothers Against Drunk Driving (MADD) offers valuable lessons, volunteer opportunities, and ways to take action from a local to a national level.
The Center for Disease Control reports the sobering statistic that more than 4,300 deaths in underage youth are caused by excessive drinking, and there is a myriad of negative impacts from alcohol usage that can affect teens, from risky behavior to impaired development and a decrease in impulse control. The consequences don't end with the individuals; they take a toll on the community in the form of lost lives, lost productivity, and an increase in costs related to healthcare. Together, with the use of our surveys and the commitment by community coalitions to implement programs that make a difference in their communities, we will continue to decrease these numbers.
Pride Surveys features a significant number of Substance Abuse Surveys that can be targeted to specific age groups and needs with communities and ask the hard questions about alcohol usage you need to ask in a school survey in order to make positive changes in your community. Please call us today at 800-279-6361 or fill out our quick online contact form.
For additional resources and information about making a community impact, please subscribe to our monthly Survey Sentinel newsletter.
Sources:
[1] Monitoring The Future: High School and Youth Trends. Retrieved 26 March 2020 at https://www.drugabuse.gov/publications/drugfacts/monitoring-future-survey-high-school-youth-trends.
[2] National Institute on Alcohol Abuse and Alcoholism. Retrieved 23 March 2020 at https://pubs.niaaa.nih.gov/publications/aa37.htm
Pride Surveys National Summary Data
https://www.ncbi.nlm.nih.gov/books/NBK37591/
Stay Informed!
Sign up for our information-filled email newsletter

Related Posts