Start your free consultation to discover the right survey for your organization.
or call

(800) 279-6361
5 Myths and Misconceptions about Conducting Student Surveys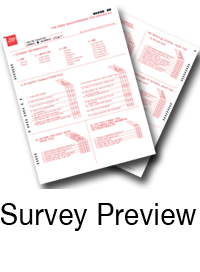 Posted on
In recent years, school and student surveys have gained more popularity in educational settings across the country. There are many different types of surveys available that measure a wide range of factors, environments, and perceptions, such as school and classroom climate; student, parent, and teacher perceptions; alcohol, drug, and tobacco use; mental health and bullying; and much more.
However, in spite of the rise in popularity and use (or perhaps as a result of it), there are also a number of common misconceptions about student surveys. In this article, we're taking a look at five common myths and the truth behind them.
Myth #1. Conducting Student Surveys is a Disruptive, Time-Consuming Process
When you use an experienced, qualified survey company, conducting student surveys can be a faster, easier process than you might think. With next-business-day shipping of almost all orders and an average two-week turnaround time for processing, schools can get helpful and critical data, and the entire procedure from ordering to receiving data can occur in as little as a month. The surveys are easy to use, come with step-by-step instructions, and require very little training for administrators. They can be conducted online or with paper and pencils, so no special equipment is needed. Plus, most student surveys, both online and pencil-and-paper options, can be conducted in less than one class period, meaning that classroom interruptions are minimal.
Myth #2: Students Lie on Student Surveys and Thus Surveys are Not Reliable
While there is no guarantee that all students will be completely honest, specially formulated "lie test" questions are included in most school surveys to weed out dishonest answers. Similarly, if certain answers on a survey contradict one another, these incongruous responses are considered unreliable, as well. Surveys that fail the "lie test" or have contradicting answers are disregarded and their information is not included in the reported data. This helps to ensure the accuracy and reliability of the measurement. It is important to note, though, that generally only about 5% of responses are found to have inconsistent or untruthful data, depending on the type of survey used.
Myth #3: Student Surveys Compromise the Privacy of Those Surveyed
When conducted properly, student surveys should always be completely anonymous. This can be ensured in several ways. First, survey administrators should follow the provided instructions for the process of proper administration, to ensure responses cannot be attributed to individual respondents. This includes preventing any names or identifying information from being included in survey answers. Second, students are informed at the survey outset that their participation is voluntary and their responses will be in no way connected personally to them. Third, all responses are collected by a designated student in an unmarked envelope and returned to the collection area all together, to further ensure anonymity.
This guaranteed anonymity protects student privacy and also helps ensure that participants are honest in their feedback and answers, as they are less likely to anticipate backlash or repercussions from their responses.
Myth #4: Student Surveys Have Little to No Long-Term Value
While some may believe that surveys only apply to the class or group that was measured and the year in which they were measured, much of the value of student surveys lies in their tracking of longitudinal information. For example, surveys can be used to track the effectiveness of drug and alcohol education programs over time, to measure the ongoing need for and impact of anti-bullying and mental health initiatives, and to continuously monitor school climate and student perceptions of learning environments.
Myth #5: Student Surveys are Too Expensive
Like many products in a commercial marketplace, school surveys are offered at a variety of price points. Schools should look for a survey company that offers scientifically-backed, scalable survey solutions at affordable, transparent prices. By doing so, they can help manage the costs of surveying their students more effectively.
Additionally, conducting student surveys can actually save money and help schools earn supplementary funds through grants and government assistance programs. For example, the Drug-Free Communities Support Program is a "federal grant program that provides funding to community-based coalitions that organize to prevent youth substance use." Grant applicants and recipients are required to routinely measure rates and perceptions of youth substance abuse in their communities through surveys. The Communities that Care (CTC) Youth Survey, offered by the Center for Substance Abuse Prevention, is one of the student surveys commonly used for this purpose.
Conducting Student Surveys in Your School
As you can see, there are a number of serious misconceptions about student surveys in the educational community. The best way to bust these myths and ensure that your school has the best survey experience possible is to find a reliable and affordable survey company that you can trust. Learn more about our survey company to see if we're the right fit for your school or community. For further information about the many benefits of conducting student surveys, check out this helpful article: Why Conduct a Student Survey?
Stay Informed!
Sign up for our information-filled email newsletter

Related Posts