Pride Surveys was created in 1982 by professors at Georgia State University in Atlanta and Western Kentucky University in Bowling Green, KY. Their purpose was to help local schools measure student alcohol, tobacco and other drug use through the use of student surveys. Pride Surveys now measure behavior on many crucial issues that can affect learning: family, discipline, safety, activities, gangs, and more.
With today's emphasis on evaluation and accountability, Pride Surveys have assisted single schools, school districts, state and federal agencies, and other organizations such as community coalitions. In 1998 a federal law designated Pride Surveys as an official measurement of adolescent drug use in America. Our Teaching and Learning Environment Surveys have been vetted and approved by the Office of Safe and Healthy Students as a measure of School Climate.
More than 13.7 million students, parents, and faculty members have responded to Pride Surveys. As of 2011 we have conducted more than 68,800 school level student surveys. International Survey Associates d/b/a Pride Surveys is independently owned and operates their data processing center in Bowling Green, KY.
Free Teaching & Learning Survey Info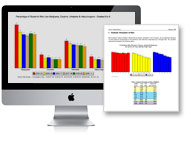 Check out our new school climate surveys and see what they will mean to your school and school system!

Products at a Glance
Teaching and Learning Environment
Parent Perception and Engagement
Grades 6-12
Grades 4-6
Risk and Protective Factor Survey
Communities That Care
Faculty/Staff
A Guide for Data-Driven Schools: Set
a course to greater academic achievement.
Message for Drug Free Communities and Coalitions: DFC guide to data collection.