Which survey is right for your organization?
Call

to speak with a survey expert!
Available Monday-Friday 9am - 5pm EST
Pride Surveys strives to be the most reliable and simplest solution for surveying students, teachers and parents around the country. We are dedicated to our customers and our customer service.
We have been in business for over 30 years, thanks to our loyal customers, and continue to innovate in the field of middle and high school student data collection and reporting. Please take a look at the products tab at the top of the page for a description of each student survey instrument as well as our teacher, faculty and parent surveys.
If you would like a demo of any of our survey products please give us a call ator send us an email info@pridesurveys.com and we will get back to you within 1 business day. You can also explore our dashboard demo page at your leisure to see for yourself how we make data and reports much easier to navigate and understand.
We also offer customized solutions to fit your needs. We work with many state agencies around the country to collect large customized data sets as well as smaller grant recipients to survey communities on specific needs. Please call for pricing and any questions you may have on these customized solutions.
Free Teaching & Learning Survey Info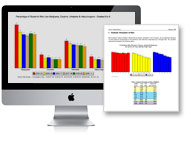 Check out our new school climate surveys and see what they will mean to your school and school system!

Products at a Glance
Social Emotional and Bullying
Teaching and Learning Environment
Parent Engagement and Perception
Grades 6-12
Grades 4-6
Risk and Protective Factor Survey
Communities That Care
Faculty/Staff
A Guide for Data-Driven Schools: Set
a course to greater academic achievement.
Message for Drug Free Communities and Coalitions: DFC guide to data collection.